chaosmaka
Small Weird Love
♥
KMM prompt:
Arthur/Merlin, modern AU based on A Primer for the Small Weird Loves by Richard Siken:

"The blond boy in the red trunks is holding your head underwater

because he is trying to kill you,

and you deserve it, you do, and you know this,

and you are ready to die in this swimming pool

because you wanted to touch his hands and lips and this means

your life is over anyway.

You're in the eighth grade. You know these things.

You know how to ride a dirt bike, and you know how to do

long division,

and you know that a boy who likes boys is a dead boy, unless

he keeps his mouth shut, which is what you

didn't do,

because you are weak and hollow and it doesn't matter anymore.
"
UGH THIS FIC... JUST. ALL THE FEELINGS. I love it so much. The author finished it just today. If you haven't read it yet and love teenage boys and their ridiculous feelings, poetry and an unhealthy amount of angst, you better do it now. ♥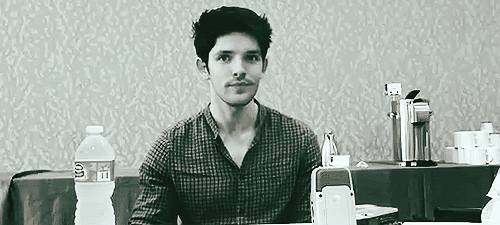 Well, I haven't read much yet and I wanted to wait for more recs but while I'm here, have as well some

paperlegends
Catch Me A Catch
by

giselleslash
Summary:
Modern AU, Merlin uses his magic to work as a magical matchmaker. Elena is a customer hoping to snag Arthur Pendragon but things don't go exactly as planned. Gwaine is there to be Merlin's always helpful, nearly always shirtless, neighbor.
IT'S JUST AMEZZIN' OK? SO MANY FEELINGS. SO MANY. AND DESTINY. AND LOVE. AND CHICKEN. ERRM I mean, squirrels. ♥
Coming Up
by

xthursdaynextx
Summary:
90s high school AU. Merlin can think of a billion reasons why moving to Camelot-on-Sea in the middle of his A-levels is a terrible idea. He would much rather play his guitar than work in his uncle's chip shop and he has no intention of making friends. Until he joins head boy Arthur Pendragon's wannabe-Britpop band and finds himself falling head over heels for the stuck-up prat.
90s high school AU I mean do I need to say more? NOPE. Music, pining boys, just go & read!
Blue Would Still be Blue
by

winterstorrm
Summary:
When widower Arthur Pendragon finds out that his three children have conspired to help him find 'someone to kiss' by placing an ad on an internet dating site, he allows his guilt to push him into agreeing to go on a succession of dates even though he's determined that he's not lonely and doesn't believe in 'love'. However, someone does set his heart racing, but it's not one of the endless parade of beautiful women he has to choose from, it's the children's new babysitter, Merlin.
Oh god Arthur and his kids are just adorable! And Merlin being Merlin. Just so lovely!
Out Of Body
by

magnolia822
Summary:
Finding out that his best friend is gay shouldn't be a big deal. But then, catching Merlin wanking to gay porn shouldn't turn Arthur on, either. With his plans for uni in shambles and his position on the high school footie team lost to injury, Arthur's determined not to disappoint his father any further. Running away from Merlin seems like the easiest thing to do, but his denial might cost him everything.
OH GOD ARTHUR ;___; Boys and again lots of feelings and pining and angst. Delicious!
ALSO: THE ART OF EVERY FIC SO FAR IS JUST STUNNING. Please make sure to check out ALL THE ART OK? SUCH BEAUTIFUL PIECES!! ♥___♥
Adios, amigos.